A celebrity marriage is strong
Gossip Time!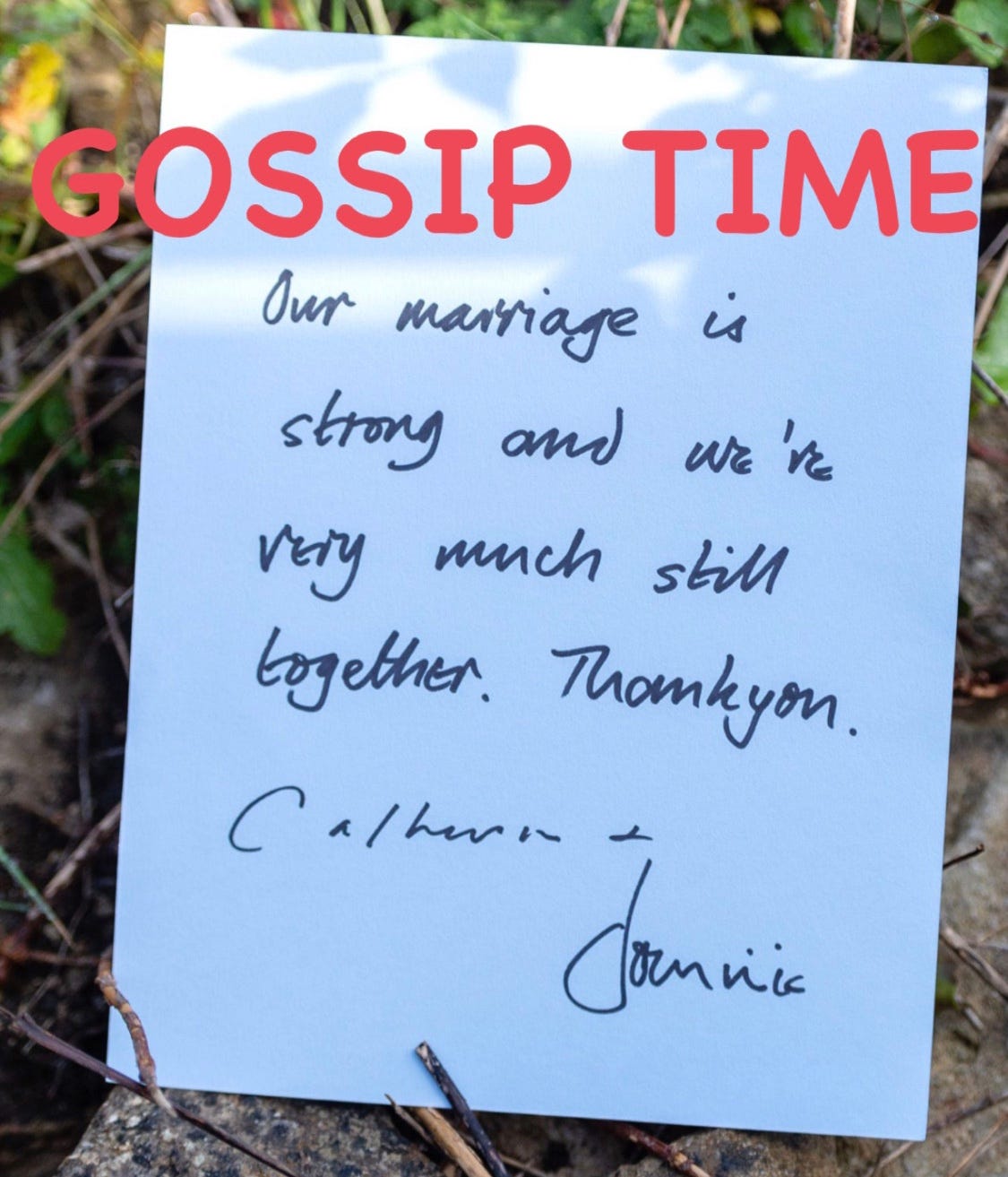 Hello and welcome to Gossip Time, a weekly guide to the stars by Allie Jones. This week: an actor and his wife are very much still together, a celebrity's ex-boyfriend approves of her new boyfriend, and Ben Affleck shaves his beard.
How do you prove that your marriage is strong? If you're Dominic West, the 51-year-old actor known for his starring role in (I'm sorry) The Affair, you simply write a note that says "Our marriage is strong and we're very much still together. Thank you," and place it outside of your home in Wiltshire, England, so that the paparazzi can see it. If you're just hearing about this now, wow, that's great for you. Happy Friday.
Let's recap what prompted West to write such a note in the first place. Well: On Monday, The Daily Mail published exclusive photos of West — I'm not sure what other word to use here — nuzzling the neck of 31-year-old actress Lily James during what looked to be a very romantic getaway to Rome. (They even rode on an electric scooter together.) If you haven't seen the photos yet, you can find them here and determine for yourself what you think is happening in them. As soon as they were published, sources connected to West's wife, a 49-year-old Irish aristocrat and landscape designer named Catherine FitzGerald, immediately went to the tabloid to share her feelings on them, prompting a rare Daily Mail Double Exclusive: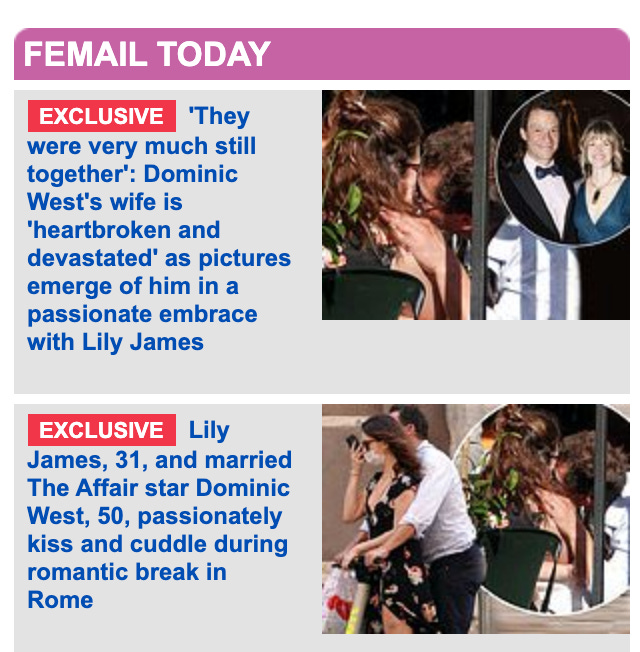 Then, it seems, West hightailed it to the airport (with James, incredibly!) and went home to England, where he wrote the note. West and FitzGerald then presented themselves to the paparazzi — they literally kissed for the cameras — even though FitzGerald was probably still upset at the time. (Here's the Daily Mail caption on one of the pics: "Crying? Dominic's wife carried a tucked away tissue in hand.") It all happened so fast that West apparently didn't have time to put on his wedding ring or change out of the clothes he was wearing in Rome. Fitzgerald, who shares four children with West, was wearing tights under her jeans, which I guess means it was cold. :(
Since then, sources connected to West have assured the tabloids that he's not having an affair with James, that he's actually like that with all women (hm), and that he's "really a big teddy bear." But Page Six reported this week that West and James were, in fact, "holed up for two nights in a suite in Rome's posh Hotel De La Ville," and when they left the hotel, they were making out all the time. They even did stuff in a Catholic church, according to an eyewitness. "[He] couldn't resist kissing her neck and stroking her," the source told Page Six. "They then visited the nearby church, the Chiesa di Sant'Ignazio, and Dominic placed his hand on Lily's butt."
Oh boy. So far, James has declined to comment. She was most recently linked to Chris Evans, who apparently flew to London in the middle of the pandemic to visit her in July. James met West this summer while filming the forthcoming BBC/Amazon show The Pursuit of Love, in which she plays his daughter.
I guess the thing we all need to remember is that our marriage is strong and we're very much still together. Thank you.
Admittedly, famous men have made worse statements when caught in similarly compromising positions. Remember last fall, when The Sun published photos of Justin Timberlake drunkenly canoodling with his Palmer co-star Alisha Wainwright on a balcony in New Orleans? A week and a half later, Timberlake released a Notes app declaration that started as an apology to his wife, Jessica Biel, and turned into an advertisement for his movie Palmer, which has yet to be released. Biel recently gave birth to the couple's second child, so I guess everything is fine now. 
---
In happier news, Us Weekly reports that Jamie Foxx approves of Emilio Vitolo Jr., who is Katie Holmes' new boyfriend. Foxx, of course, is Holmes' old boyfriend: They dated on and off for five years, somewhat secretly, before officially breaking up last summer. According to a source, Foxx "is happy for her and wishes her the best. Jamie has moved on and is unbothered by Katie and Emilio's romance." 
I'm glad a source connected to Foxx has finally weighed in, because we've been seeing a lot of Holmes, 41, and Vitolo, 33, since they started dating last month. Vitolo, a chef and the son of famous New York restaurateur Emilio Vitolo Sr., seems to be very serious about Holmes, even though he was engaged to another woman as recently as August. "With Emilio, Katie is so authentically herself," a source told Entertainment Tonight about the relationship yesterday. "This is the real Katie and she's playing by her own rules now. They're so happy."
While I'm happy they're happy and want to share that happiness with as many photographers as possible, this does make me miss the couple that previously held the record for Most Paparazzi Make-out Photos Taken During a Pandemic Lockdown: Ben Affleck and Ana de Armas. The couple used to get photographed outside Affleck's Pacific Palisades mansion just about every day, but they took a two-month long break from PDA when Affleck traveled to Ireland at the end of the summer to film The Last Duel with his buddy Matt Damon. As of yesterday, though, Affleck is back in L.A., and he was papped greeting de Armas at his door, thank God. In these new photos, he has a beard, but in a charity auction video he did with Damon that was also released yesterday, he does not. Which do you prefer?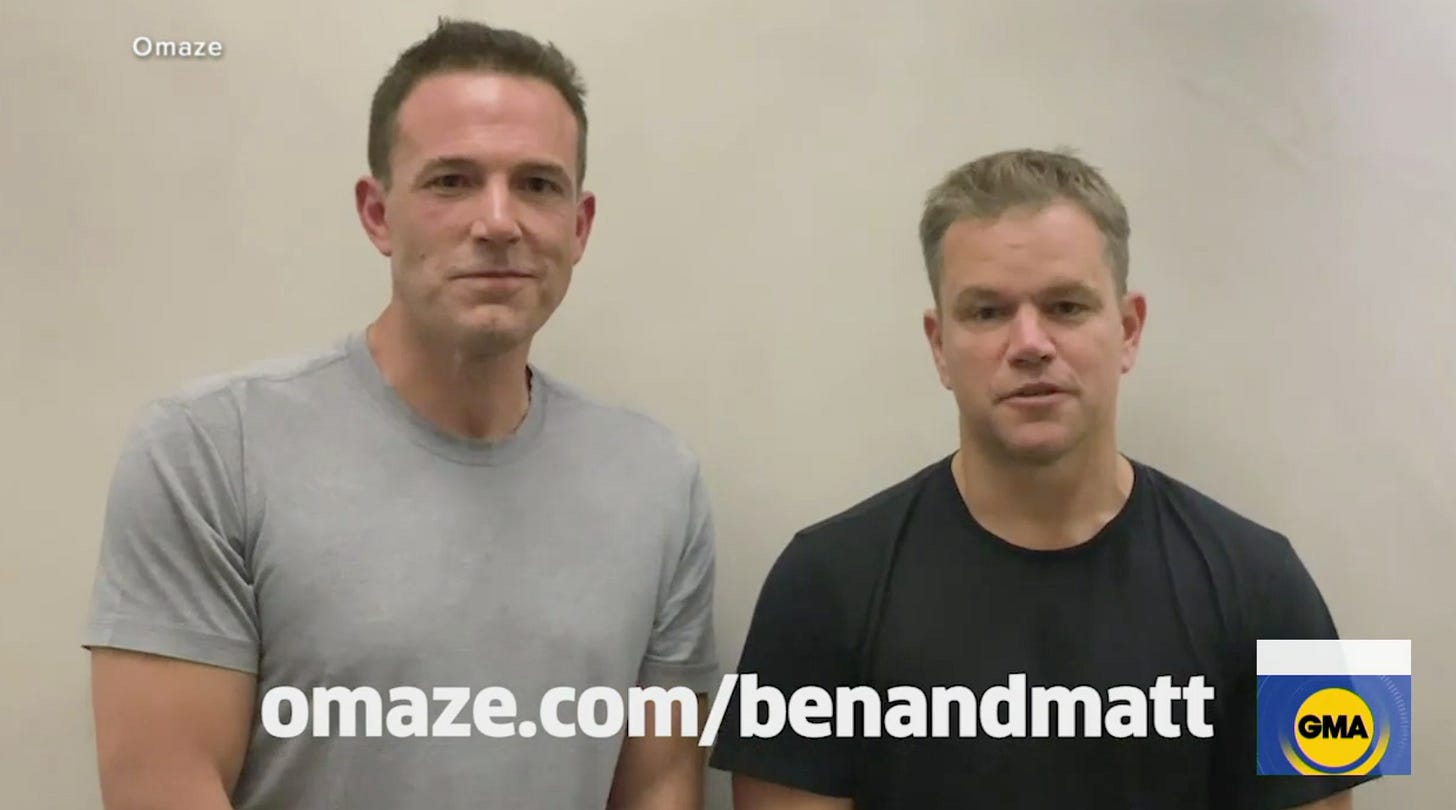 ---
STUFF BY HILARY DUFF: Hilary Duff is still in New York filming Younger. Two nights ago, she was spotted having dinner outside at Lilia in Williamsburg. Not to give away where I live, but where I live is right by there, and nobody told me! If you see Hilary Duff, please tell me.
---
Finally, I'll leave you with this photo of Jessica Simpson riding her child's bike while wearing 5-inch platform heels. We can't see the shoes in the photo, but we're to trust Simpson that they're there.
Trying my hardest to feel peaceful riding my 7yr old sons bike. You can't see them, but you know I've got 5-inch platforms on to reach the pavement for grounding 😜
Thanks so much for opening this email. If you liked it, why not send it to a friend?
And please, send me any and all feedback — I love hearing from you! You can reply to this email or leave a comment below.