Discover more from Gossip Time
A weekly guide to the stars by Allie Jones.
Over 9,000 subscribers
Hello and welcome to Gossip Time, a weekly guide to the stars by Allie Jones. This week: a nanny tells all, a model dates a DJ, and Meghan Markle explains television. 
A new nanny has entered the celebrity scandal pantheon, and she's scaring me. Unlike her predecessors Mindy Mann, who allegedly cheated with Gavin Rossdale when he was married to Gwen Stefani and was found out via a shared iPad, and Christine Ouzounian, who allegedly cheated with Ben Affleck when he was married to Jennifer Garner and was found out after she rode in private plane wearing Tom Brady's Super Bowl rings, this nanny is not involved in an extramarital affair (that we know of). Instead, she seems to be on a quest to simply defame her former employers Olivia Wilde and Jason Sudeikis, who are in the midst of an acrimonious custody battle that has been going on since Wilde left Sudeikis for Harry Styles at the end of 2020. 
Instead of issuing harmless Instagram announcements about her "new drop top Lexi," this as-yet anonymous nanny has gone rogue, sitting for a two-part tell-all interview with the Daily Mail this week regarding Wilde and Sudeikis's breakup. In addition to revealing what she observed about the split, she provided the Mail with screenshots of her text messages with both parties, with seemingly no discretion or loyalty to either of them. As such, no one comes out looking good. 
The nanny accused Wilde of being so obsessed with Styles that she gave away the family dog to spend more time with him. She also claimed Sudeikis tried to fire her while drinking heavily. The text messages she released paint Wilde out to be a heartless harlot and Sudeikis as a whiny loser who earnestly texts things like "Love will win. #believe." Though they have been at odds for months, Sudeikis and Wilde came together to issue a joint statement denying the nanny's "false and scurrilous accusations" after part one of the interview went live. Where is the NDA, I wonder? 
The detail that most everyone has latched onto, of course, is the nanny's claim that Wilde made a "special salad dressing" for Styles, which upset Sudeikis so much that he laid down in front of her car to prevent her from bringing it to him. In the one inspired PR move she has made since Don't Worry Darling premiered, Wilde responded to this specific claim by posting a passage from Nora Ephron's Heartburn on her Instagram story. It's the part where Rachel (a stand-in for Ephron) shows Mark (a stand-in for Ephron's ex-husband Carl Bernstein) how to make a good vinaigrette before ultimately leaving him because he's a cheating loser. 
Got it? But wait: More than one woman is imagining herself as the Nora/Rachel character in this scenario. Last night, the one and only KEELEY HAZELL posted the same passage on her Instagram story, though she focused on the part about telling one's own story instead of the salad dressing recipe. Hazell, of course, is Sudeikis's sometime girlfriend who announced this week (conveniently enough) that she is coming out with a memoir entitled, Everyone's Seen My Tits. You'll recall she got her start as a topless model/"Page 3 girl" in the U.K. and now has a bit part on Ted Lasso. Hazell and Sudeikis were first spotted together last February and have been on and off ever since. 
Page Six is calling Hazell's Heartburn post "shade" towards Wilde, but I disagree. If anything, I think Hazell is shading Sudeikis, hyping her forthcoming book, and perhaps reminding the rest of the world that she is the true main character in this story. I look forward to reading more about her life. 
---
Can you believe it? Emily Ratajkowski was spotted making out with a new guy, and that guy was not Brad Pitt. Crazy. His name is Orazio Rispo, and he's a DJ and the son of New York real estate mogul Giampiero Rispo. Ratajkowski, 31, and Rispo, 35, were photographed smooching and riding around on Rispo's motorcycle together in New York last Friday night. 
How did these two meet? I don't know, but according to the Daily Mail, they were previously spotted having dinner together in September during Milan fashion week, just before the tabloids started furiously reporting that Ratajkowski was dating Pitt. My Gawker colleague Fran Hoepfner points out that Rispo runs in a celebrity-adjacent crowd: He is close with Lily Kwong, the model/landscape artist now married to Nick Kroll. Given this connection, it's possible Rispo even has an opinion about the Don't Worry Darling drama. Fun! And he must be responsible, because according to this blind item from Crazy Days and Nights, Ratajkowski ran a full credit report on him before they started going out. Best of luck to Pitt's PR team as they attempt to find a new woman for Pitt to "date" in the pages of Us Weekly. 
Also making out with someone new this week is Billie Eilish. The pop star, 20, was photographed on a dinner date with Jesse Rutherford, 31, in L.A. on Tuesday night. Rutherford is the lead singer of The Neighborhood, a band best known for the song "Sweater Weather," which came out when Eilish was 11. Great. 
---
STUFF BY HILARY DUFF: This week, Hilary Duff was included in a People.com roundup of celebrities wearing chunky hoop earrings.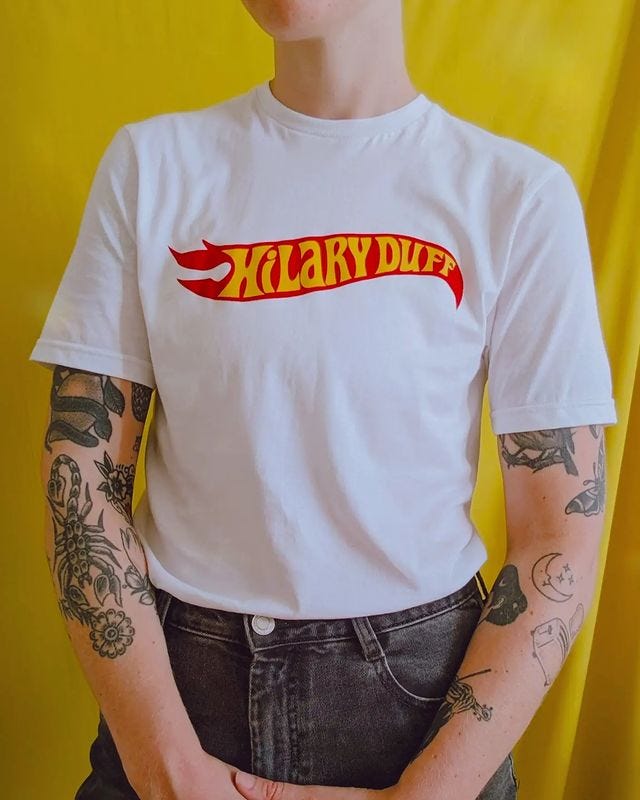 Also, I'd like to shout out Gossip Time reader Sacha Stephan, who sent me a gorgeous Hot Wheels-inspired Hilary Duff T-shirt this week that I will now wear every day until the end of time. You can get your own here!
---
Finally, I'll leave you with this video of Meghan Markle explaining her favorite TV show to Variety this week. The wind-up here is incredible: 
I, too, love great storytelling, especially when the Duchess of Sussex is the one narrating. 
Thanks so much for opening this email. And thank you especially to paid subscribers! Your contributions keep this operation running, and I love you. If you haven't subscribed yet and would like to, you can do so in the box above. As always, feel free to share your thoughts and theories in the comments or by replying directly.